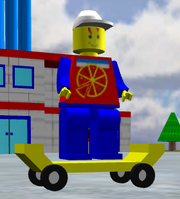 Minifigs
are a spacefaring humanoid race of beings who originated on the
Planet Earth
. They are a highly intelligent race and are known throughout the galaxy for their ability to build and deliver pizza. The total minifig population is estimated at 7 billion.
Nothing is known about where minifigs came from. What is known is that minifigs began to settle into groups about 20,000 years ago, and began to form nations and empires in the past 2,000 years. Niel Armstrong became the first minifig to walk on the moon in 1969.
Ad blocker interference detected!
Wikia is a free-to-use site that makes money from advertising. We have a modified experience for viewers using ad blockers

Wikia is not accessible if you've made further modifications. Remove the custom ad blocker rule(s) and the page will load as expected.